Transformative Routines for Your Wedding Glow - Dive into the World of Luxurious Face Oils, Soaps, and Ice Rollers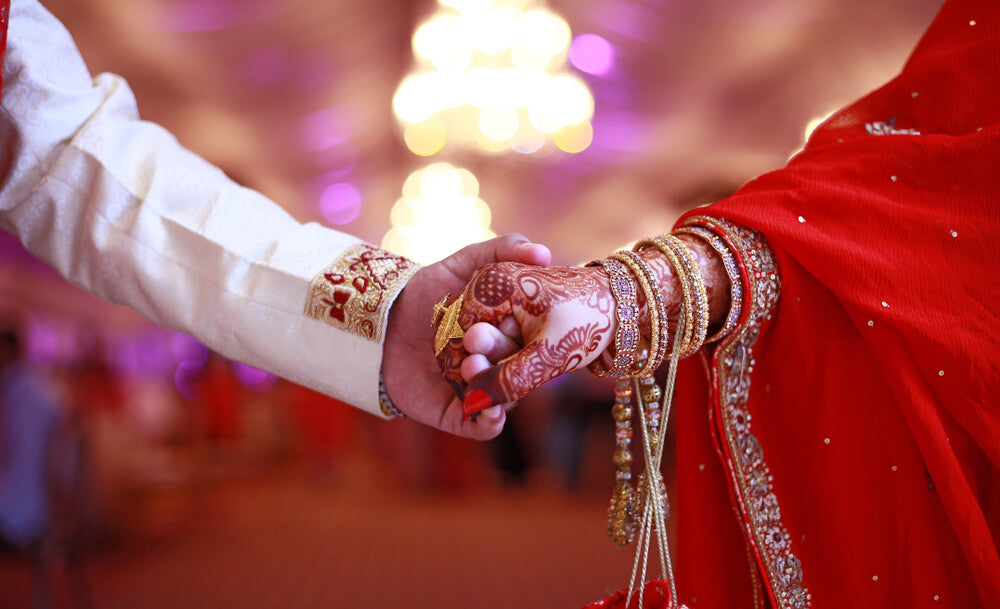 The journey towards radiant skin for weddings begins with understanding the significance of a glowing complexion. A bride's skin serves as the canvas for the perfect wedding day look, enhancing not only beauty but also confidence. As we delve into the routines that lead to the best glow, it's crucial to recognize the impact of healthy, luminous skin on the overall bridal appearance.
Setting the Context for Incorporating Routines to Enhance Skin Glow:
Achieving a radiant glow isn't an overnight task; it requires dedication and a well-thought-out skincare routine. In this blog, we will explore a comprehensive pre-wedding skincare regimen, focusing on cleansing, exfoliation, and the transformative benefits of face oils. Additionally, we'll guide brides through the wedding day skincare routine, special treatments leading up to the big day, and general tips for maintaining a luminous complexion.
Pre-Wedding Skincare Routine
1. Cleansing:
A gentle cleanser sets the foundation for a healthy skincare routine. Avoiding harsh chemicals ensures that the skin remains balanced and ready for the next steps.
Proper cleansing eliminates impurities, preventing breakouts and promoting an even skin tone. Look for sulfate-free cleansers that maintain the skin's natural moisture barrier.
Exfoliation:
Weekly Exfoliation to Remove Dead Skin Cells:
Regular exfoliation is key to removing dull, dead skin cells, allowing the fresh, radiant skin to emerge. It's a pivotal step for achieving a smoother and more even complexion.
 Consider incorporating exfoliators with natural ingredients like sugar or fruit acids for a gentle yet effective exfoliating experience. Be mindful of your skin type and choose exfoliation frequency accordingly.
Benefits of Face Oils in Promoting Hydration:
Intense Moisturization for Dry Skin:
Face oils provide deep hydration, making them ideal for brides with dry skin. They lock in moisture, leaving the skin supple and nourished.
Jojoba oil, known for balancing oil production, and Rosehip Seed Oil, packed with antioxidants, are excellent choices. These oils not only hydrate but also contribute to a radiant complexion.
Jojoba Oil:
Jojoba oil, derived from the seeds of the jojoba plant, is a versatile and widely loved face oil. What makes it stand out is its similarity to the skin's natural sebum, making it suitable for all skin types, including oily and acne-prone skin. This lightweight oil is easily absorbed, leaving the skin moisturized without feeling greasy.
Jojoba oil helps to balance oil production, making it an excellent choice for individuals with both dry and oily skin. Rich in vitamins and antioxidants, it nourishes the skin, promoting a healthy and radiant complexion. Its gentle nature makes it ideal for daily use, and it can be applied directly to the face or mixed with other skincare products.
 Benefits:
Balances oil production for all skin types.
Lightweight and easily absorbed, suitable for acne-prone skin.
Nourishes the skin with vitamins and antioxidants.
How to Use:
Apply a few drops of jojoba oil to cleansed and toned skin. Gently massage it into the skin using upward motions. Use it in the morning and evening as part of your regular skincare routine. It can also be mixed with your moisturizer or foundation for added hydration.
Rosehip Seed Oil:
Rosehip seed oil, extracted from the seeds of rose bushes, is renowned for its exceptional benefits for the skin. Packed with antioxidants, vitamins A and C, and essential fatty acids, this oil is a powerful ally against signs of aging. It helps in reducing hyperpigmentation, promoting skin regeneration, and improving overall skin texture.
Rosehip seed oil is particularly beneficial for those with mature or dry skin, as it deeply hydrates and restores elasticity. Its natural anti-inflammatory properties make it effective in calming irritated skin. Regular use can result in a more even-toned complexion with a youthful glow.
Benefits:
Rich in antioxidants and vitamins A and C.
Anti-aging properties that reduce fine lines and wrinkles.
Promotes skin regeneration and improves texture.
How to Use:
Apply a few drops of rosehip seed oil to clean, damp skin. Gently massage it into the face and neck in upward motions. Use it as a part of your evening skincare routine to allow the oil to work its magic overnight.
Argan Oil:
Argan oil, often referred to as "liquid gold," is derived from the kernels of the argan tree. This luxurious oil is a true multitasker, known for its hydrating and nourishing properties. It is particularly beneficial for dry and sensitive skin, thanks to its high content of fatty acids and vitamin E.
Argan oil helps repair the skin's natural barrier, making it effective in addressing issues like dryness, flakiness, and redness. Additionally, its non-greasy texture makes it suitable for daily use, providing deep hydration without clogging pores.
Benefits:
Hydrates and nourishes dry and sensitive skin.
Rich in fatty acids and vitamin E for skin repair and protection.
Non-greasy texture suitable for daily use.
How to Use:
Warm a few drops of argan oil between your palms and gently press it onto clean skin. Use it in the morning and evening as part of your skincare routine. It can also be applied to the hair for added shine and moisture.
Tea Tree Oil:
Tea tree oil, extracted from the leaves of the tea tree, is renowned for its powerful antibacterial and anti-inflammatory properties. While not a traditional face oil, tea tree oil can be a game-changer for those with acne-prone and oily skin. Its natural antibacterial properties help combat acne-causing bacteria, reducing inflammation and preventing breakouts.
Tea tree oil can be diluted with a carrier oil, such as jojoba or argan oil, before application to avoid irritation. It's important to note that tea tree oil is potent, and a patch test is recommended before incorporating it into your routine.
Benefits: 
Anti-bacterial properties make it effective against acne.
Reduces inflammation and prevents breakouts.
Suitable for oily and acne-prone skin.
How to Use:
Mix a few drops of tea tree oil with a carrier oil, such as jojoba or argan oil, and apply it to the affected areas. Use it as a targeted treatment for blemishes. Start with a small amount to ensure your skin tolerates it well.
Pomegranate Seed Oil:
Pomegranate seed oil, extracted from the seeds of the pomegranate fruit, is a lesser-known but highly effective face oil. It is rich in antioxidants, including punicalagins and anthocyanins, which contribute to its anti-aging properties. Pomegranate seed oil helps protect the skin from free radicals, promoting a youthful and radiant complexion.
It also contains omega-5 fatty acids, which assist in hydrating and soothing the skin. This oil is suitable for all skin types and can be especially beneficial for those looking to address signs of aging and maintain overall skin health.
Benefits:
High in antioxidants for anti-aging benefits.
Protects the skin from free radicals.
Contains omega-5 fatty acids for hydration and soothing.
How to Use:
Apply a few drops of pomegranate seed oil to clean, damp skin. Gently massage it into the face and neck. Use it in the morning and evening as part of your skincare routine to harness its anti-aging and protective properties.
Also Read: What Is Glass Skin And How To Get It - A Step-By-Step Routine?
Hydration:
Importance of Drinking Water for Skin Health:
Staying hydrated is foundational for skin health. Water helps flush out toxins, keeping the skin clear and promoting a natural, healthy glow.
 In addition to drinking water, incorporating hydrating serums or masks provides an extra boost of moisture. These products prepare the skin for the upcoming wedding day, enhancing its luminosity.
 Wedding Day Skincare Routine
Morning Routine:
Gentle Cleansing to Start the Day:
Morning cleansing is essential to remove any impurities that may have accumulated overnight. It sets the stage for a fresh, clean canvas.
 Opt for a gentle cleanser to avoid stripping the skin of its natural oils. Following this with a lightweight moisturizer creates a smooth base for makeup application
Ice Roller Therapy:
Benefits of Using an Ice Roller for Reducing Puffiness:
Ice roller therapy is a secret weapon for reducing puffiness and enhancing skin elasticity. It's a quick and refreshing addition to the morning routine.
The cold temperature of the ice roller constricts blood vessels, reducing inflammation and puffiness. Incorporating this technique into the morning routine contributes to a vibrant and refreshed appearance.
Makeup Primer:
Choosing a Hydrating Primer for a Dewy Finish:
The right makeup primer not only enhances the longevity of makeup but also contributes to a dewy, radiant finish.
Opt for hydrating primers that create a smooth surface, allowing makeup to adhere flawlessly. This step ensures that the bride's makeup stays fresh and luminous throughout the festivities.
Night Routine:
Double Cleansing to Remove Makeup and Impurities:
Double cleansing at night is crucial to ensure the complete removal of makeup and accumulated impurities. It sets the stage for nighttime skin repair.
Start with an oil-based cleanser to break down makeup, followed by a water-based cleanser for a thorough cleanse. This routine prepares the skin for the application of a nourishing night cream or serum.
Special Treatments in the Week Leading Up to the Wedding
Face Masks:
Using Hydrating Masks for an Instant Glow:
Hydrating face masks provide an instant boost of moisture, promoting a glowing complexion. They are especially beneficial in the week leading up to the wedding.
Incorporate hydrating masks with ingredients like hyaluronic acid or aloe vera for maximum hydration. These masks revive tired skin, leaving it radiant and ready for the big day.
DIY Techniques:
Homemade Remedies Like Turmeric and Honey Masks:
DIY masks, such as turmeric and honey, offer natural solutions for glowing skin. However, it's crucial to conduct a patch test before trying these remedies.
 Turmeric's anti-inflammatory properties and honey's moisturizing benefits make for a powerful combination. Before the wedding, brides can indulge in these DIY treatments to enhance their glow.
General Tips for a Radiant Glow
Adequate Sleep:
The Role of Sleep in Skin Rejuvenation:
Sufficient sleep plays a crucial role in skin rejuvenation. It allows the body to repair and regenerate, contributing to a fresh and radiant complexion.
 Establishing a consistent sleep routine, especially in the weeks leading up to the wedding, ensures that the bride wakes up with revitalized and luminous skin.
Healthy Diet:
Incorporating Fruits and Vegetables for a Nutrient-Rich Diet:
A nutrient-rich diet, filled with fruits and vegetables, supports overall skin health. It provides essential vitamins and antioxidants for a radiant complexion.
Brides should focus on foods like berries, leafy greens, and citrus fruits for a skin-loving diet. Additionally, avoiding certain foods that may contribute to skin issues is crucial for maintaining a glowing complexion.
Stress Management:
The Impact of Stress on Skin:
Stress can negatively affect the skin, leading to breakouts and dullness. Managing stress through relaxation techniques is vital for pre-wedding skincare.
Whether it's meditation, yoga, or simple deep-breathing exercises, finding effective stress management techniques contributes to a calm and glowing bridal complexion.
Conclusion
Summarize the key takeaways, emphasizing the importance of each step in the skincare routine. Reiterate the commitment to radiant skin for the wedding day.
 Encouragement for Brides to Prioritize Self-Care for Radiant Skin on Their Wedding Day:
Conclude with a motivational message, encouraging brides to embrace the skincare routines outlined. Remind them that self-care is an essential part of the wedding preparation journey, contributing to their confidence and radiant glow on the most special day of their lives.